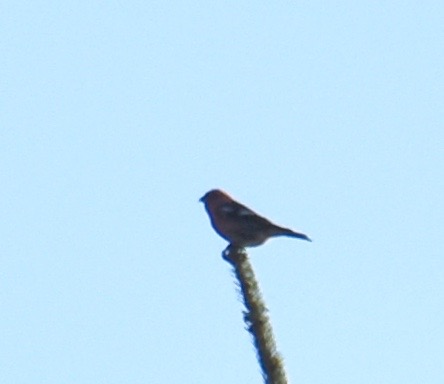 Ken and I met at his house today at 6 AM, and headed for Neah Bay while snow fell fairly heavily at his place. We drove through off and on snow until past Port Angeles, where there was about 2-4 inches of accumulated fresh snow. Once past there it quickly dropped off and there has been no snow once close to Neah Bay.
Today was cold, overcast to partly cloudy, and windy with gusts to > 20 mph. Birding was slow. Few passerines in town, moderate gulls and waterfowl in the marina and near town, and we had little of note in town. In the afternoon we headed for Hobuck Beach area where White-winged crossbills had been seen earlier this week. We drove about to scout, and thought the best spruce grove was off a road just before the Hobuck Campground HQ, that leads to several private residences. We parked there and quite quickly heard a flock of crossbills fly overhead and land in a tree fairly distant and backlit. We both got on the birds with binos, looked carefully, and simultaneously incredulously said White-winged! Then Ken groused that we didn't carry a scope, but I said, "No, but I've got my camera." I quickly took a photo, zoomed it maximally, and the top bird was, in a very overcropped, blurry photo, seen to have two white wingbard and a crossbill. Ken dashed for a scope, but the birds flew off.


Throughout the rest of the afternoon we saw several groups of Red-crossbills, apparently type 10 Sitka Spruce small-billed type, but no more WWCR. At home the photo enlarged to show at least 5 WWCR in the flock of 8 birds, likely all were WWCR
The rest of the day was fairly uneventful, we got Herring and Iceland (Thayer's) gulls before dinner. Dinner was at the pizza place where Ken had a Ling cod dinner and I had a no-cheese pizza. After dinner we tried owling on Quarry Rd where WSOW, GHOW, LEOW, and BAOW have been seen, and we found no owls. We did find a lone Trumpeter swan on the water across the road before heading home. Two FOY WA birds today, NWCR and WWCR.