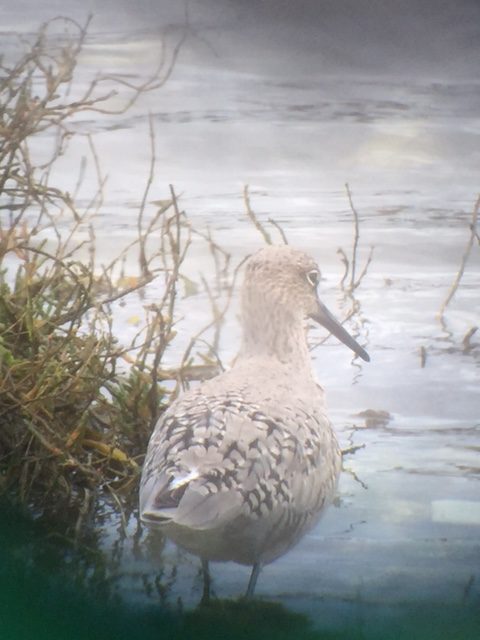 Today Bruce Labar and I led the shorebird festival field trip visiting Gray's Harbor from Bottle Beach to Westport plus stops in Tokeland and at Grayland Beach. We met at the festival HQ at 7 AM and enjoyed nice looks at a flock of Red-necked Phalaropes, Spotted Sandpipers, peeps, Dunlin, and Dowitcher flocks swirling around and several species of ducks in the waste water ponds. We left on a school bus at 7:30 with about 30 participants including Bruce and me, plus our pleasant and competent school bus driver Carrie, and raced to Bottle Beach to beat the incoming tide.
We got there just in time, as the water was nearly up to shore at the blind area, but there were still good numbers of birds up close to shore. We nearly immediately noted Red Knots, despite the wind and steady rain. As we looked more carefully what at first looked to be a long line of Short-billed dowitchers with a few knots and it turned out to be a large group of Red Knots. We estimated conservatively 90 knots, mixed with good numbers of Dunlin, Western Sandpipers, Black-bellied Plovers, Semi-palmated Plovers along with a few Least Sandpipers. Caspian Terns flew and called overhead, and everyone got good looks at all the species.
We stayed until the tide started to push the birds off to roost, and headed for Tokeland. Bruce pointed out the Pot Shed on the way to Tokeland, thinking this an appropriate order to see these roadside attractions. First stop there was at Graveyard Spit, where the rain cleared and we missed the hoped for Godwit, Curlew and Whimbrel but enjoyed close up looks at two alternate (breeding) plumage Ruddy Turnstones and a bright alternate plumage Black Turnstone. The reddish tones on the back and facial pattern of the breeding Black Turnstone were cool to see up close.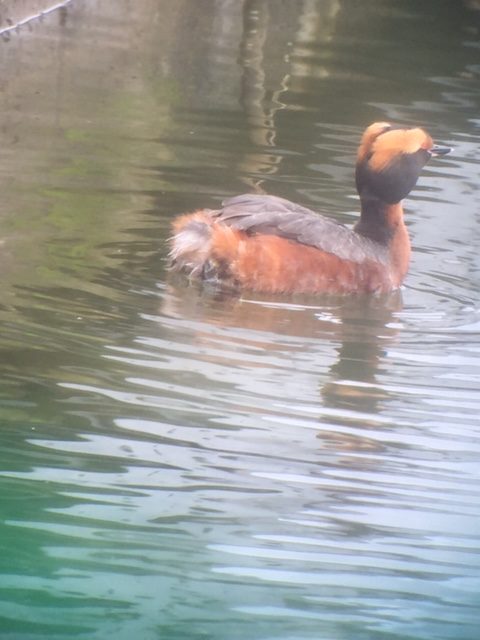 At the Tokeland Marina it was overall pretty quiet, but we found the one remaining western Willet, a spectacular alternate plumage Horned Grebe only feet off the end of the boat launch ramp, studied one Red-throated Loon among many Common Loons, and added Western Grebe, Purple Martin and Turkey Vulture to our day lists.
On the way out of Tokeland we stopped at the Trade Winds Hotel where at high tide at least 8 Whimbrel were found, in part thanks to our scouting there yesterday.
We were making really good time and so decided to stop at Grayland Beach Access Road. We could not get into the State Park so chose this instead. It was fortuitous as our Florida guests spotted a "different plover" that Bruce immediately ID'ed as a Snowy Plover. It flew north (likely from Pacific County to Gray's Harbor County) and we relocated it along with another SNPL for excellent looks. About this time the sun started to shine, and the SNPL worked its way closer and closer until all had excellent looks with binos and in the spotting scopes. Another ? highlight there was a Common Murre, obviously weakened on the beach which we noted a few minutes later being eaten by a pair of Bald Eagles. A "V" of Cackling Geese flew overhead nearby calling distinctly for a nice look.
From here we headed to Westport. Our primary stop there was Westhaven State Park where from the bluff we studied a small flock of "rock-pipers" on the south side of the base of the jetty. We counted 6 Surfbirds, 1 Ruddy Turnstone, and Bruce and I got looks at a Wandering Tattler that was not relocated for the group despite a good effort. A few very pale first cycle bleached out Glaucous-winged Gulls led to good discussion of what to look for in a first cycle Glaucous Gull, but we could not make any of these into GLGU's.
We ended the day strongly with a visit to the viewing platform near the Westport Marina. As we climbed up the platform stairs Bruce recognized Dave and Sherrie Hayden who informed us of many nearby Fork-tailed Storm-petrels. These gave a great showing with perfect light, close looks, and what we estimated as a minimum of 50 individuals. This was a lifer for many and best looks ever for more of the group. It was FOY for me though Bruce had seen them on last week's Westport Seabirds pelagic trip.
An Osprey on the platform as we returned to the Hoquiam STP area and the festival HQ station rounded out the trip. Altogether 75 species, 19 species of shorebirds, and what Bruce and I felt was an excellent trip. Here is a species list as a trip summary from eBird:
Brant
Cackling Goose
Canada Goose
Gadwall
Mallard
Northern Pintail
American Wigeon
Shoveler
Green-winged Teal
Greater Scaup
Lesser Scaup
Surf Scoter
Red-breasted Merganser
Red-throated Loon
Common Loon
Horned Grebe
Western Grebe
Fork-tailed Storm-Petrel
Brandt's Cormorant
Pelagic Cormorant
Double-crested Cormorant
Great Blue Heron
Turkey Vulture
Osprey
Northern Harrier
Bald Eagle
Black-bellied Plover
Snowy Plover
Semipalmated Plover
Killdeer
Whimbrel 81
Ruddy Turnstone
Black Turnstone
Red Knot
Surfbird
Sanderling
Dunlin
Least Sandpiper
Western Sandpiper
Red-necked Phalarope
Spotted Sandpiper
Wandering Tattler
Greater Yellowlegs
Short-billed Dowitcher
Willet
Common Murre
Ring-billed Gull
Western Gull
Glaucous-winged Gull
Western x Glaucous-winged Gull (hybrid)
Caspian Tern
Rock Pigeon
Steller's Jay
American Crow
Purple Martin
Tree Swallow
Barn Swallow
Cliff Swallow
Black-capped Chickadee
Pacific Wren
Marsh Wren
Bewick's Wren
American Robin
European Starling
Orange-crowned Warble
Yellow Warbler
Wilson's Warbler
White-crowned Sparrow
Golden-crowned Sparrow
Savannah Sparrow
Song Sparrow
Spotted Towhee
Red-winged Blackbird
Brown-headed Cowbird
American Goldfinch